These last few months have been a whirlwind of celebration and wrapping up another beautiful wedding season all while preparing for my biggest and most important role yet- motherhood! And I couldn't be more excited or ready to welcome our little baby lady. I like to think that she's already shown a few sides to her personality already like keeping most of her playtime activity during the day and letting me sleep restfully at night. Along with her resistance to punctuality- today is actually her due date (40 weeks- YAY I made it!)  She is however showing no progress or interest in making her grand debut. Which has just given Joe and I more time to enjoy our cozy nights in together.
Thank you to the many special people in my life who have filled me with so much gratitude and blessings over the last 9 months. Our baby is truly lucky and blessed to be entering into such a loving community of family and friends. Including my sweet friend Karina of Metts Photo for capturing these beautiful photos of me and baby a few weeks ago at Humboldt Park. Oh and for indulging me in my craving for pizza after our photo session 🙂 And to my family for always making me feel like the luckiest lady- I am thrilled and honored to be entering into motherhood. I can only hope to be as devoted, caring, and selfless as I have seen my 2 sisters be in raising their kids. With so much to learn, love, and laugh about I cannot wait to see what motherhood teaches me and our family.
To say that I loved putting together our baby girls nursery would be a gigantic understatement. I pulled inspiration from a few different place starting with Rifle Paper's Wildfire wrapping paper, nature, bold happy patterns and by tapping into the girliest side of me. For those who know me well- I'm not a pink girl at all- never really have been. So taking the leap to paint the nursery this dreamy peach/pink shade- Whispering Peach was a big deal for me. But I loved using this color as a foundation to creating a calm, playful and pretty backdrop for many new memories to be created in. I am so excited to be sharing photos and DIY links/inspiration to all the many projects I had the joy in creating for her. My intention in everything I make by hand is that it will live on long past her infancy and be loved for many years to come.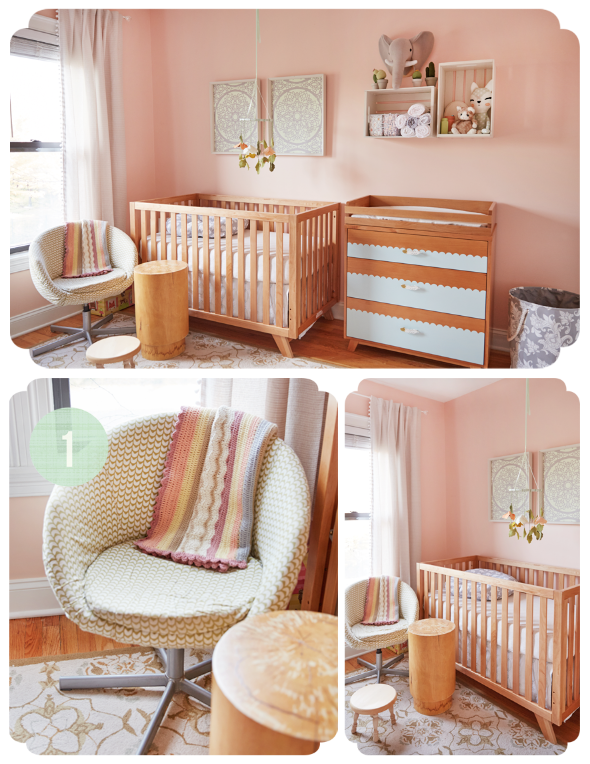 (1): This IKEA egg chair (that I believe is no longer sold at the store) can still be found on Craigslist– which is where I found it a few years ago for $20. I recovered it using an old IKEA bed sheet as my fabric. I've used this as my desk chair for many years and now has a new life and purpose in the nursery. I crocheted this sweet baby blanket over the last few months and loved how it turned out. The only thing I changed was adding a more girly scalloped edge to finish it off.  Using 100% cotton yarn was important to me as I suspect I will be washing this blanket many times over.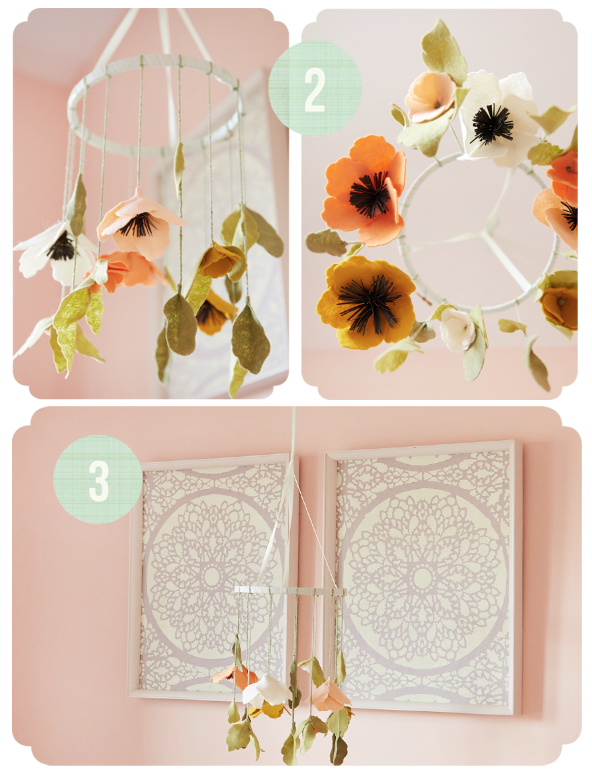 (2): I spent many nights cutting out these petals and leaves before putting everything  together to create this whimsical nature inspired mobile. I took inspiration and the petal patterns from the book Paper to Petal. However instead of using paper I decided to use felt for its durability.
I had so much fun picking out the felt colors for this project. I wrapped a 14″ wood embroidery hoop with satin ribbon that I had left over from our wedding and used the same ribbon to hang from a small white hook mounted to the ceiling.  How sweet would it be to wake up to this view every morning 🙂
(3): I created these wall hangings using the Charlotte Stencil from Cutting Edge Stencils and an inexpensive canvas drop cloth from Home Depot. The matching wood frames where a thrift store find that I simply sanded lightly and painted using a cream colored chalk paint.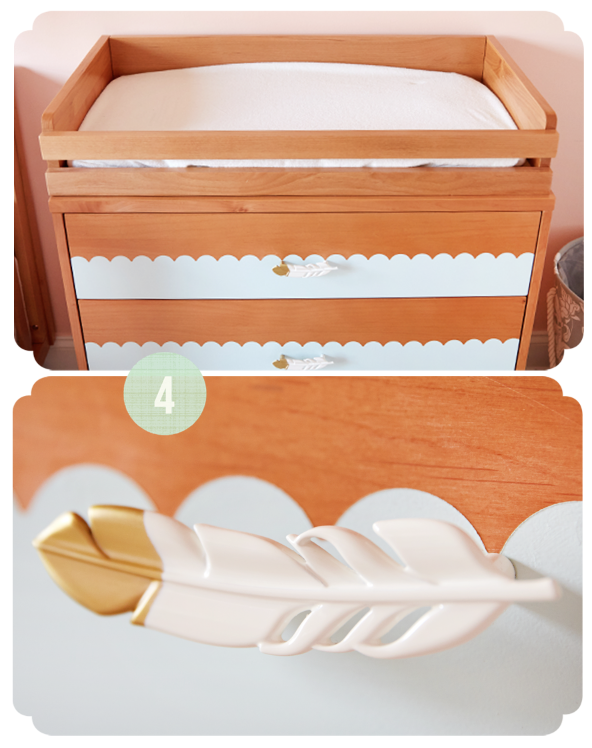 (4): The dresser/changing station is from buybuy baby. And while I loved it for its clean lines and that it matched the crib I thought it could use a little more love and a dose of playfulness. So I added (what might be my favorite shape)  scallop edges using this tape onto the  3 front drawers and completed the final look by adding these fun Target feather drawer handles.  A complete transformation with little investment!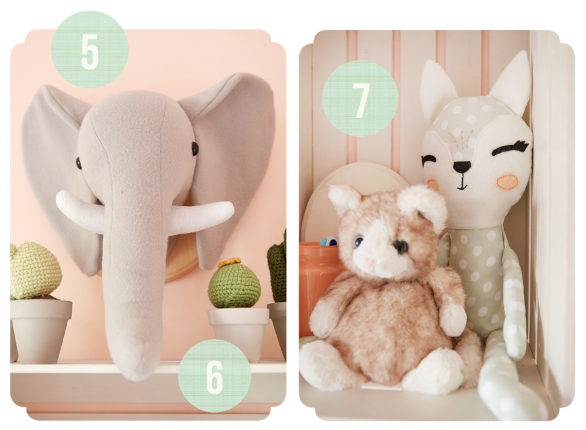 (5). Creating this faux taxidermy Elephant head was such a fun sewing project. I loved how easy this pattern was to follow- perfect for a beginner like me! The only thing I added was mounting the head onto an unfinished wood mount found at Jo Ann Fabrics.
(6). Crochet Cactus- what else is there to say? I've added to my collection over the past year and now they have a permanent home in the nursery. To get started on building your collection check out the easy to follow pattern at Little Things Blogged– thanks Tanya 🙂
(7). This stuffed fox pattern by Miranda Winslett was so easy to make- again great for a beginner. The hardest part was picking out the fabric combination. I can't wait to make more of her patterns.
(8). Okay- so not really a DIY but I wanted to share the link to these clear bookshelves which are actually greeting card displays. I choose the 30′ long ones to fill a small nook behind the door. I love how they don't take up any visual space and really help the book titles pop off the wall. I have to thank Sarah a recent client of mine for this find- she had them in her nursery and was where I first saw them 🙂
If you've made it this far then you really LOVE DIY's as much as I do! Thanks so much for taking this nursery tour with me. And if you're wondering what's on the other side of the wall in the nursery- its my office! More on that at a later time. But for now wish me luck 🙂 Happy weekend friends! xox