Thanks for joining me for my newest monthly blog series I like to call- Friendor Spotlight. Every month I will be highlighting a different Chicago wedding vendor to add to the creative conversation, inspire, showcase the many talented ladies + gents in and around Chicago and to encourage others to lead with love and intention everyday.
Please welcome Emily Talsma of Emily Rose Flower Crowns to February's Friendor Spotlight series. I met Emily last year while shooting her brother's wedding in Chicago. She was in the wedding party and the bride was wearing one of her custom flower crowns. I knew right away that she was someone I needed to connect with and I'm sure glad I did because after our first coffee meeting we found out that we are neighbors and in fact only live about 2 blocks away from each another!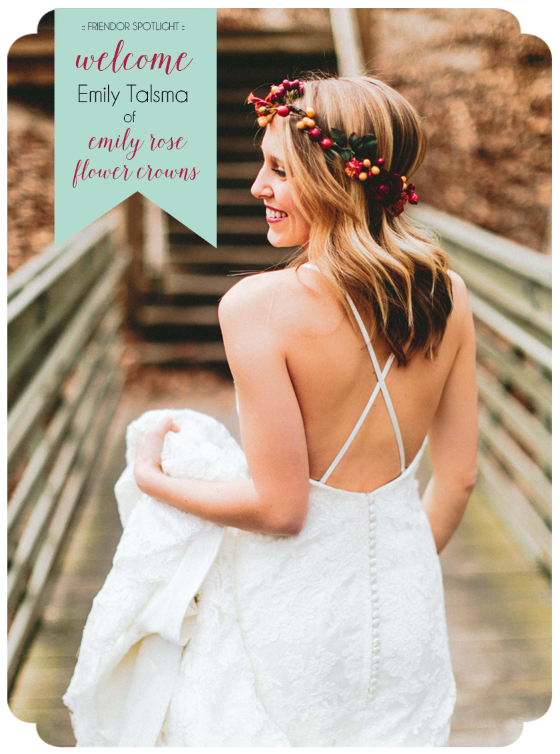 Q: Where does your inspiration come from?
Emily:  I am so inspired by my grandmother, Evelyn Ruth. She wore red lipstick every day, wasn't afraid to be bold in her style (hello, high heels and fur coats!), and was kind to everyone. I feel a little bit of her genes in me every time I prance around in a flower crown. Also, I'll never forget the words Jodi of Giving Tree Photography said to me when I was first starting my businesses: "Always be a little kinder than necessary." That inspires the heck outta me. I want to be kind. More than successful, I want to be kind.
Q: What pushes you to keep creating your best work?
Emily:  When I was getting married, I could not find a flower crown that I liked (or really any at all!) and felt like I had no choice but to make my own. When I make my crowns, I make them with my future clients in mind and try to create things people would actually want to wear on their wedding day – crowns that are aesthetically beautiful and tasteful but are also high quality. I make sure my crowns won't fall apart + choose nicer flowers that look real in photos because that's what I would want!
Q: If you could give your younger self one piece of advice what would it be?
Emily:  Don't be so hard on yourself.
Q: When you need to unwind/get away/escape where do you go and what do you take with you?
Emily:  I'm the weirdo that unwinds by cleaning or creating something. It's weird because my job IS creating stuff so it's sometimes hard to separate work from "life" (but I guess that's not a bad problem to have, right!?). As far as "getaways", Michigan will always have my heart. Beautiful uncrowded beaches + wineries with free tastings + the nicest folks around? Count me in.
Q: Favorite place in Chicago?
Emily: I'm trying so hard to not sound like the lamest person ever… Aldi?? My own apartment?? jkkkkkkk (kind of)… My husband and I are such homebodies when we do go places, we're total creatures of habit. Thai Lagoon is our favorite place that we go to. It's the best Thai in the city, hands down!
Q: The best gift you have ever given yourself?
Emily: Not jumping into another office job for the sake of security/comfort and finally doing what I love. I think that one takes the cake. Special thanks to my husband too for that one. He believes in me a crazy stupid amount.
Q: What are you most looking forward to in the new year?
Emily:  Now that both of us work for ourselves, I think we'll be traveling a lot more which is super exciting! We've always wanted to do a road trip across the U.S.
Q:  Favorite book or podcast that everyone should read or listen to?Emily: I'm reading Chronicles of Narnia for the first time right now (super late on that bandwagon…) and it's kind of the best. It's actually a children's book so it's really easy to read and has the sweetest tale, based off of the sacrificial love of Christ.
Q:  3 words that describe you today?
Emily: Goofy, Motivated, Ice cream-craving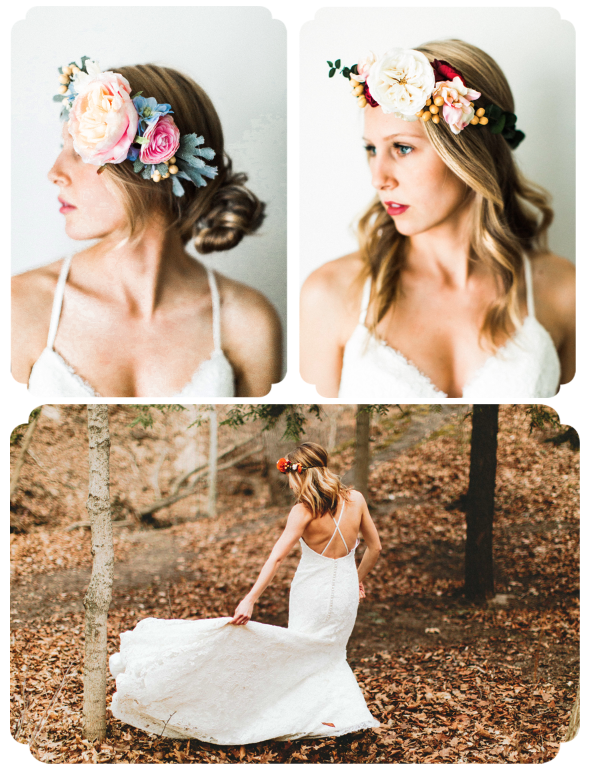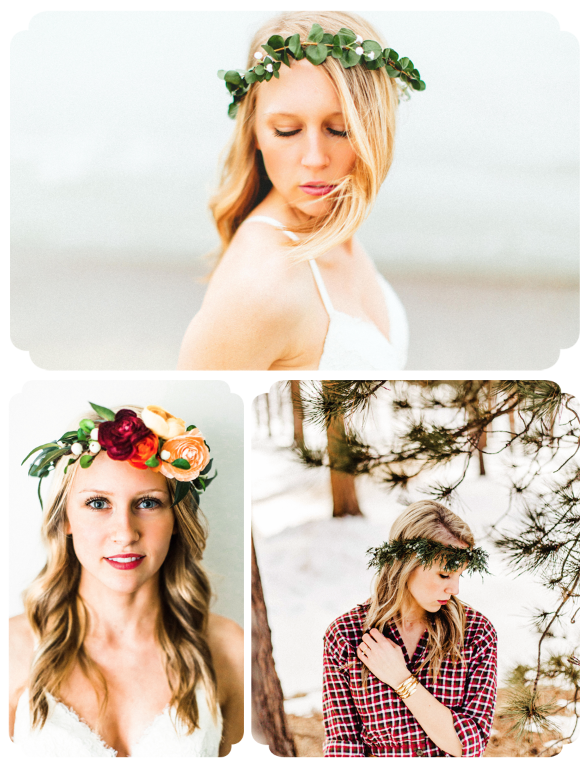 Thank you so much Emily!  If you would like to connect and learn more about this wildly talented lady feel free to reach her here:
Instagram: @emilyroseflowercrowns
Facebook: https://www.facebook.com/Emily-Rose-Flower-Crowns-340167592828844/