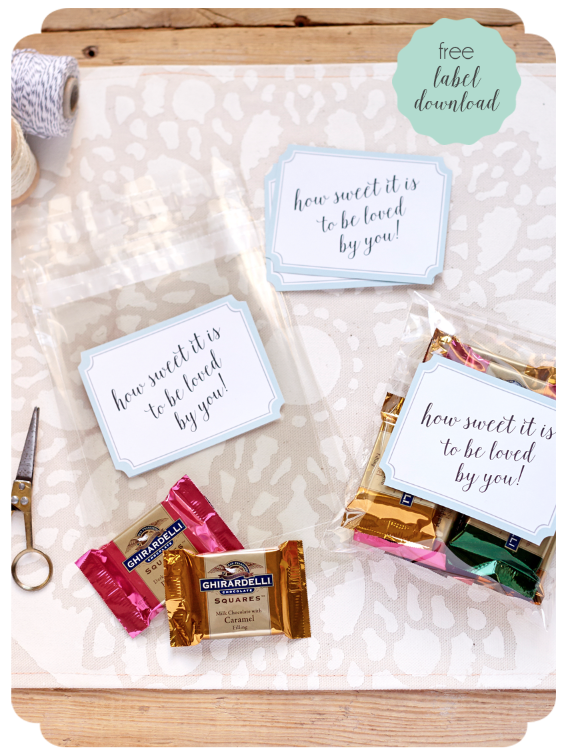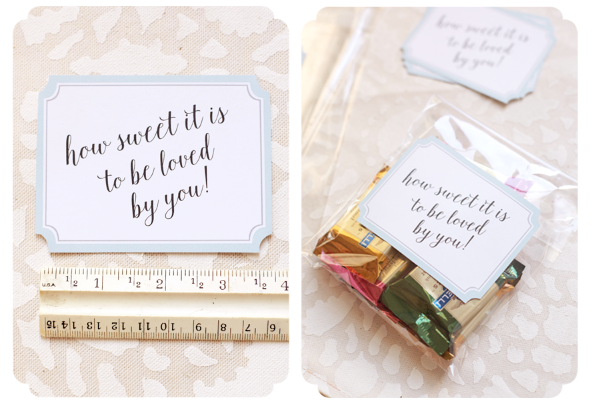 As I was wrapping up part of my client welcome gifts this weekend I thought it would be a fun and easy diy label to share on the blog today. I loved creating these cute labels to help add a little sweet personality to my otherwise plain plastic bags.  There are 6 labels that print on 1 Avery sheet of white full sheet labels. Once a label has been cut it measures about 3 1/2″ x 3″. So basically after you cut these from the sheet they act as stickers that can adhere to almost any material- pretty neat!  I filled my baggies with a handful of assorted Ghiradelli treats that my clients are sure to enjoy  as part of their welcome packet.
These handmade details are small but impactful ones that align with my value to shower my clients with personal attention and make them feel special right from the beginning!

Step #1: Download your label here.
Optional Step: If you are Photoshop savvy open the file in Photoshop, select the border color and replace it with a color that matches your brand color.
Step #2: Place your Avery 8 1/2″ x 11″ sheet down or up in your printer (according to printer setup) + Print as many as you need.
Step #3: Cut out labels + stick them to paper, plastic, or any branding material you wish to give a little life to. Enjoy!
If you are a small business owner in the market for a new printer I highly recommend this all in one (scanner, printer, copier) wireless Canon printer.  This has been a true workhorse for my business this year in helping me create custom labels, gift cards and pricing sheets. I love that it comes in white (non eye sore) and is compact enough to fit on my office shelf without having to pull it out every time I need to print something (the printer feed is located in the front).  To top it off it doesn't cost an arm and a leg either. Love that it is also wireless and I can print documents from my ipad or phone too!